Because EveryBODY is Beautiful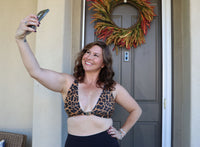 Be You, Be Beautiful
 In case no one told you today,
you're perfect just the way you are!
Testimonials
I love this bra! It is so cute and so comfortable. Keeps everything in place. It is very smooth fitting so I can wear it with T-shirts etc. This is my new everyday bra.

Merdi
This is the perfect fun and supportive bra! My favorite thing about it: The snap front- so secure and snaps easily. It has never slipped or come undone like other snap fronts.

Erika
The side boob coverage is everything!! This bra is clearly made by a woman! I'm always trying to keep these things in check especially when I'm doing push ups or pull ups! I have no worries with my RAX!

Kaila
Made in the USA!
Our bras are proudly crafted in sunny Southern California.